I love giving food as a gift. It's easy and unless someone has sworn off the food I choose, I know that the gift will get used. Recently, I discovered my love for Food Network magazine. Inside, I found a fantastic peppermint bark recipe. I've changed it a little for ease.
You'll need:
1 bag of white chocolate chips
1 tablespoon shortening
1 cup crushed peppermint candies
8 favor bags
Ribbon of your choice
(the supplies shown below make two batches, however the ingredients and directions are only for one batch)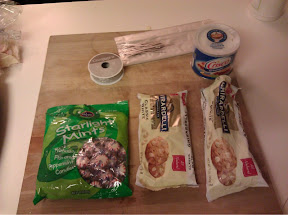 1. Melt the tablespoon of shortening in the microwave (10 second increments till melted). Combine the melted shortening with 1/4 bag of the white chocolate chips.
2. Melt the remainder of the bag of white chocolate chips in the microwave using 30 second increments on high and stirring between until melted. When melted, stir in the shortening mixture.
3. Line a cookie sheet with parchment paper. I used shortening on the corners to hold it down.
4. Crush the peppermint candies so that they form 1 cup. Putting the unwrapped candies in a plastic ziploc bag and using a rolling pin works well.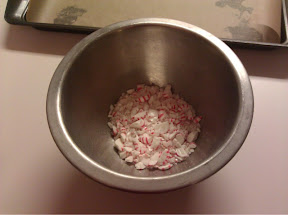 5. Spread the white chocolate mixture on the lined baking sheet and sprinkle the peppermint candies over. I pressed the bigger pieces into the mixture.
6. Put in the fridge until hardened. (about 10 minutes)
7. Break apart and place in favor bags. Tie with ribbon for a pretty holiday gift. Makes about 8 bags.