When I was in middle school, my dad enrolled me in a night class to improve my reading speed. Never a poor reader, this class was designed to help me comprehend large amounts of text in a very short amount of time. Speed reading. I will always remember the book, "The Day No Pigs Would Die" because of that class.
Now, in our digital age, there's an app for that. Perusing #edchat this evening, I found the app, reading trainer. It promised to greatly increase my reading speed and it had a ton of amazing reviews, so I bought it. If nothing else, it would be a fun game, like Brain age.
After taking the initial test, I found that I now read at about 416 words per minute, which is pretty average. I think I did pretty well seeing as how I had a two-year-old constantly asking me, "Mama, what's that? Mama, what are you doing? Mama, I want to play with the iPad!".
After the initial test, the app designs a curriculum for me.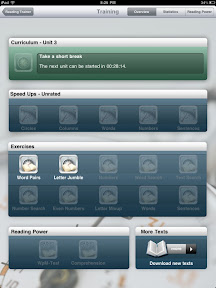 This consists of drills where I search for words, type in numbers that appear on the screen for a tenth of a second and follow little blinking lights across the screen.
Of course, after I tested myself, Josh immediately tested himself and earned a score of 957 words per minute (!). To redeem myself, I challenged him to a game of Cash Cab where he had to name four of the first six winners of American Idol. He named three. Still, I felt a little vindicated.
Posted using BlogPress from my iPad